Looking for free events always and for things to do in the artsy and cultural Twin Cities? Look no further because there's plenty to do in Minneapolis and Saint Paul Minnesota in addition to what you see in our listings. See below for more:
Art Museums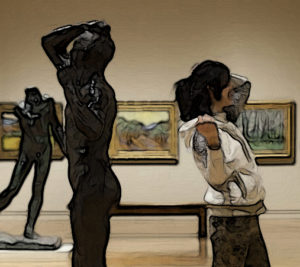 Minnesota Institute of the Arts (MIA) Home to more than 90,000 works of art representing 5,000 years of world history, the Minneapolis Institute of Art is among few major art museums to provide free admission. Calhoun-Isles area south of downtown Minneapolis.
Minnesota Museum of American Art. A collection of more than 5,000 works showcases the unique voice of American artists from the 19th century to the present. Downtown St. Paul.
Fredrick R. Weisman Art Museum. This University of Minnesota museum designed by Frank Gehry gleams atop a hill overlooking the Mississippi River. Known as a "modern art museum" the collection totals a 25,000+ collection. University area near Downtown Minneapolis.
American Museum of Asmat Art. This gallery exhibits the art and culture of the Asmat people of southwestern Papua, Indonesia, housed at the University of St. Thomas in the Merriam Park area between downtown St. Paul and Minneapolis. Featuring more than 2,200 objects, it is one of the largest of its kind in the United States.
Goldstein Museum of Design. Includes two galleries, HGA and Studio 241. Over the decades, their exhibitions have explored themes and experiences that honor the multidisciplinary nature of design. From people to places to things, GMD presents a unique point of view that encourages deeper thinking and discussion about the meaning of design. On the Saint Paul campus of the University of Minnesota.
Art Galleries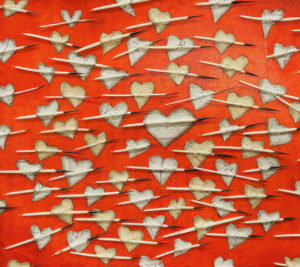 All My Relations Arts. Features artwork from Native Americans. All My Relations Arts honors and strengthens relationships between contemporary American Indian artists and the living influence of preceding generations, between artists and audiences of all ethnic backgrounds, and between art and the vitality of the American Indian Cultural Corridor. In the Philips area south of downtown Minneapolis.
Midway Contemporary Art. Founded by artists in 2001, Midway Contemporary Art is a nonprofit, non-collecting visual arts organization in Minneapolis that presents temporary exhibitions, maintains a public research library and presents regular public programs. Exhibitions primarily focus on commissioning and developing new projects with artists who have typically never shown in the Midwest or, often, in the United States. In downtown area across the Mississippi river.
American Association of Wood Turners Gallery. Located in downtown Saint Paul's historic Landmark Center, the Gallery of Wood Art offers an often surprising and always engaging view of contemporary works created in wood. Downtown Saint Paul.
Conservatory and Zoo, Sculpture Park
Como Conservatory and Zoo. Unbelievable to have a free conservatory and zoo (though you really should donate at the door). This is a great way to get out of the snow into the tropics, and a fun place to be entertained by animals. In the Como area of Saint Paul.
Minneapolis Sculpture Garden. The Minneapolis Sculpture Garden is an 11-acre park in Minneapolis, Minnesota, in the United States. It is located near the Walker Art Center, which operates it in coordination with the Minneapolis Park and Recreation Board. See the indigo rooster and the spoon and cherry. In downtown area of Minneapolis.
Caponi Art Park. Restoring and Nurturing the Human Spirit through Art, Nature and Community. The Park is composed of 60 acres of rolling wooded hills and trails that enlighten and delight all who visit. In Eagan, MN and only open in the summer.
Walking Inside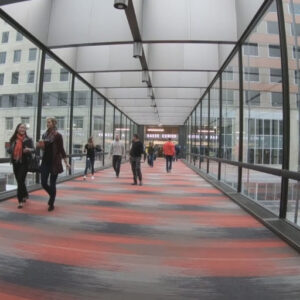 Minneapolis and Saint Paul Skyways. Minneapolis boasts 11 miles of skyway with a modern and cosmopolitan feel, while Saint Paul features art deco and a relaxed feel. In Minneapolis, visit the center of the skyway, the IDS tower. In Saint Paul several great finds await: City Hall and County Courthouse to see the awesome ivory statue, Union Depot (though maps may say skyway is closed – be sure to play ping pong on public table), East Fifth grand ballroom, and Children's museum. Both are great for people watching.
Mall Walking. The Mall of America (MOA) in Bloomington and Har Mar Mall in Roseville on the Saint Paul side are both popular walking destinations.
Walking Outside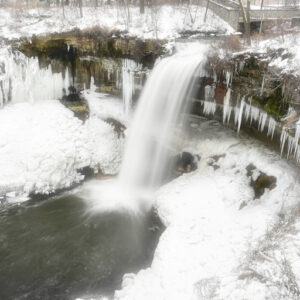 Minnehaha Falls Regional Park. A great place to walk, walk your dog, and get behind the falls for a picture. In South Minneapolis. The park attracts over 850,000 visitors annually.
Winchell Trail (and others at this link). Winchell Trail is a five-mile pedestrian-only trail in Minneapolis, Minnesota, United States, that runs along the west side of the Mississippi River between Franklin Avenue South and East 44th Street. Popular with bird watchers and naturalists, the rustic trail provides Upper Mississippi River gorge access and views.
Swede Hollow Park. Cool place to wander around aimlessly or with a purpose. I was in the area and stumbled upon it. A surprisingly large heavily wooded area with paths and picnic tables. East of downtown Saint Paul.
Bruce Vento Nature Sanctuary and Indian Mounds Regional Park. Indian mounds and stellar views of the river and Saint Paul make Mounds Park a great place to walk. Indian Mounds Regional Park is a public park in Saint Paul, Minnesota, United States, featuring six prehistoric Native American burial mounds overlooking the Mississippi River. The oldest mounds were constructed 1,500–2,000 years ago by people of the Hopewell tradition. The Sanctuary is a hidden gem where you feel like you're an urban explorer. Both near downtown Saint Paul.
Lilydale Regional Park. OMG, if you ever wanted to go from city to complete country on a long walk, walk this two lane road to the park. Near the end you wonder if you're up north given the lake, bluff, trees and not a building or house to be seen. Get on Water Street off Wabasha south of downtown across the river and follow it to the end. Absolutely lovely, and you might see fireflies in the summer.
Reservoir Woods Park. My favorite park of all time because I like deeply wooded areas. Dog owners love it too. Off Larpenteur, East of Dale in Roseville. Generally very quiet with few walkers. Shouldn't have told you about it.
State Fair Grounds. State Fair grounds are really fun to explore when empty. And it's not illegal. Open to the public from 6 AM to 11:00 PM outside of Fair season and special events. Biking there is a blast and there are spots for some basic trials riding off of rocks and ledges. Feels like a ghost town, especially since you normally only see it packed with people. In Saint Paul.
Other Attractions
Lakewood Cemetery. Yep. A cemetary. You wouldn't think so but the Garden Mausoleum is considered notable for modern architecture and the Lakewood Memorial Chapel for the most perfect example of Byzantine mosaic art in the United States. The tile blows you away. Southwest area of Minneapolis.
Summit Avenue and Saint Paul Cathedral. Saint Paul contains an impressive row of late Victorian homes along Summit Avenue and more so near the cathedral. Saint Paul Cathedral is one cross taller than the state capital building and the interior is well worth a gander. Summit area of Saint Paul.
Biking. Minneapolis and Saint Paul are famous for bicycling, often vying with Portland, Oregon for number of people who take to bikes.