When you really need to be left alone you can wear a coronavirus human repellent t-shirt. This one speaks to touching the coronavirus. It doesn't say that you continuously touch the coronavirus with gloves on (or off), nor does it suggest that, over time, maybe we'll all touch the virus on some sort of surface and this t-shirt underscores that thought.
It doesn't say that those people who look homeless might get the same response from other humans who pass by. The passer-bys may not cover their nose or run, but inside their heads that's what passer-bys do. It's like, "just let me walk by without you asking me for a dollar. Or spare change. Let me steadfastly avoid your eyes and determinedly walk by."
Homeless people often feel like they are rejected by others, like they are the coronavirus. Sad. Because all of us need human interaction. A smile. A nod. Some acknowledgement that we exist. Maybe even a warm and kindly "Hello."
Rewind back in time and lepers were human repellents. While scientists have since found that leprosy is mildly contagious, and even when infected the bacteria takes 20 years to manifest troubles, back then leprosy was thought to infect upon contact. So lepers were shunned and cast out into their own communities. Again sad. Tragic.
Our brave new world may increasingly become paranoid of those things the nightly news trumpets, and so children may be increasingly forbidden from leaving the house. We'll become increasingly agoraphobic which is a fear of open spaces (like the outside). Babies will no longer lick railings. Dogs will no longer lick babies. Unless it's the family dog which, for some reason, is non-infectious and has a tongue that may very well contain antibiotics. But that doesn't help if it's a coronavirus. Only plenty of sleep, plenty of water, and release of the sleep hormone, melatonin.
Some might see the coronavirus human repellent t-shirt as an ironic remark on the COVID-19 scare of 2020. Let them see it that way. Irony works. Just like it did when, in Roman times, the huge parade with chariots and streamers and city officials who came through the city gates was mocked by Jesus who rode a donkey and came in through the back gate where human waste was carted to a dump. Some comment, eh? Early street theater.
I rest my case.
So enjoy the stab at humor. And don't purchase this t-shirt because it isn't available.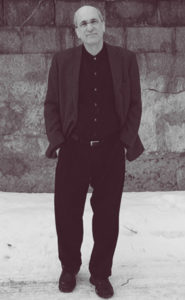 Jerry Sedgewick is a left brain/right brain creative, scientist and religious. Among other things he has contributed a patent and assisted in the design of a proteomics device which won the coveted international Red Dot award (Isoplexis IsoLight), created a documentary addressing the consequences of homelessness (Guttered), and has written about life and living as a follower of Jesus (Prevailon.com). Jerry lives in Saint Paul, Minnesota.